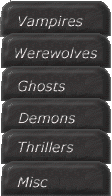 While 2002 did not see many entries into the Queer Horror genre, there were still some very interesting ones. This was definitely the year of sequels.
Best overall

Selected stories from Queer Fear II by Michael Rowe
While many of the stories were not actually horror, a few stories did stand out as exceptional within the queer horror arena. These included:
Bugcrush by Scott Treleaven
Gaytown by Robert Boyczuk
One of the Boys by Edo Van Belkom
Veggie Mountain by Thomas S. Roche

Best TV

Buffy the Vampire Slayer by Joss Whedon


Probably the worst written season of Buffy, but it did focus on lesbian witches Willow and Tara.
Honorary mentions