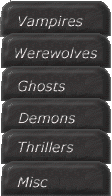 Eh, in case anyone cares, here's a complete timeline of the site and site's development. Future historians will be thrilled!
11/24/17 - Added Ghost Wars, Midnight, Texas, Wynonna Earp, updated Supernatural, True Blood
10/19/16 - Added In the Closet, ErOddity(s), Brides of Sodom, HIS Dracula, Bite Marks, Bugcrush, Nightmare on Twink Street, updated The Best of Care, Dante's Cove, In the Blood, and Supernatural
9/15/16 - After a long hiatus, I'm starting working on this site again. My passion was cooled when Google made my site virtually impossible to find.
7/4/11 - Added 2001 Maniacs, Deadly Blessing, I Was a Teenage Werebear, Scream 4, and Cupcake: A Zombie Lesbian Musical
3/13/11 - Added Seed of Chucky, A Demon Inside, Lovedeath, Mark Julian Vampire P.I.: The Case of the Choirboy Killer, The Fungus, and Galaxy of Ghouls,
11/14/09 - Restored damaged entries: Haute tension, Curse of the Vampyr, Because the Dawn, Angel, Breeders, Zora: La Vampira, Xena: Warrior Princess, The Fearless Vampire Killers, Dis | connected, Cunt Dykula, Vampire Fantasies, Vampyros Lesbos, Princess of Darkness, Daughters of Darkness, Caress of the Vampire, Bloody Mallory, Killer Condom, X-Files, Magic Cottage, Immoral Tales, and The Mark of Lilith,
9/20/09 - Added Redneck Zombies, The Crystal Curtain, and The Hunger (book)
8/14/09 - Added The Sentinel (book), Night Warning, and The Sentinel (movie)
8/12/09 - Added Eternal, updated Le Frisson Des Vampires, and Lust for a Vampire.
7/24/09 - Added Unspeakable Horror
7/17/09 - Added The Sentinel and Modern Vampires
6/22/09 - Restored missing information about entries to the database.
5/23/09 - Added Cthulhu, Keeper of Secrets and updated Troll - A Love Story, Someone Is Killing the Gay Boys of Verona
3/28/09 - Added So Dead, My Love, True Blood, and Mortal Companion, updated Scab.
2/22/09 - Added Smoke and Shadows, The Green Man, and Bonesaw
1/9/09 - Added Dead Serious, IM and Queer Gothic, updated Chamber of Homos
12/19/08 - Added My Name is Bruce, updated Chamber of Homos, Demon's Stalk, The Gay Ghouls, The Lure, Dante's Cove, Demon's Coronation, Dog Collar Boys, and The Lair
12/04/08 - Email is finally back up here. If you have sent a message and received no reply, please resend.
10/25/08 - Added The Lust Boys, Twisted Tales, updated Too Beautiful, Bend Sinister, The Lair, Dante's Cove
10/8/08 - Moving to a new server. Please be patient while I get the site up and running again.
9/22/08 - Updated Seeds of Evil, Valley of the Damned, and Satan's Victor
9/9/08 - Added Tainted, Chilling Tales of Terror and the Supernatural, Otto; or, Up with Dead People, updated Vampire's Kiss, Devil at China Cove, and Dark Brotherhood
8/22/08 - Added Mother Julian and the Gentle Vampire updated American Psycho, Shadows, The Daemon, Gay Vampire and Supernatural
7/26/08 - Added Blood Lust, Updated Blacula.
7/11/08 - Added ME2: A Novel of Horror , The Master of Seacliff, Haunted Hearths & Sapphic Shades: Lesbian Ghost Stories, Need, Every Dead Thing, and Dragula.
6/2/08 - Added Vintage: A Ghost Story, updated The Guilty Innocent.
5/11/08 - Added Out There in the Night, Soul Mates: Bound By Blood, The Fan, Secret of the Amazon Queen and updated Wilding.
4/12/08 - Added For a Few Demon's More, Without Reservations and The Lair.
2/16/08 - Added Closet Monsters: Zombied Out and Tales of Gothrotica
1/26/08 - Added V for Vendetta (film), When Darkness Falls, Warlock: A Novel of Possession, Bloody Mallory, The Best of Care, V for Vendetta (graphic novel)
12/28/07 - Added In the Blood, updated Gay Zombie
12/1/07 - Added The 24th Day, Gay Zombie, Mommy's House, updated Love & Human Remains, A Clash of Fangs and Platforms
10/15/07 - Getting posted later than usual, the 2006 Queer Horror awards have been presented.
9/3/07 - Added Fake, and Without Reservations, updated The Lair
8/17/07 - Updated Triptych of Terror: Chilling Tales by the Masters of Gay Horror, The Bleeding Hearts: Diary of a Country Vampire, Torchwood
8/3/07 - Added Love & Human Remains, and For a Few Demons More. Gay and lesbian vampire pictures updated.
7/28/07 - Added Muffy, the Vampire Layer, Every Which Way But Dead, Blood Pact, and My Best Friend is a Vampire, updated Sex Psycho, and Mulholland Drive
7/16/07 - Added Mulholland Drive, Desperation, Triptych of Terror, Bloody Gays, and Minimax.
7/8/07 - Added Old Dark House.
6/30/07 - Added Blood Prophet, Triptych of Terror, updated The Lair, Bend Sinister and Holy Family
5/28/07 - Added Undead and Unwed, Vampire Transgression, Torchwood, Sex Psycho, The Good, the Bad and the Undead, The Lair, Scab, the Movie, updated At Twilight Come the Flesheaters, Baked to Death, and The Blood of Kings
5/22/07 - The server is moved to its new home, and the site is back up again! Thanks for your patience.
2/4/07 - Added Bound in Flesh, BloodRayne, and Creatures of the Pink Lagoon
11/3/06 - Added Running Dry, updated Supernatural, Dracula's Daughter, Hellbent, and Winter of the Soul: Gay Vampire Fiction
8/30/06 - Added Naked Ghosts, updated Dante's Cove, At Twilight Come the Flesheaters, Bend Sinister, Naked Ghosts, and Cursed
6/30/06 - Uploaded many movie images.
6/13/06 - Added The Talented Mr. Ripley, Dante's Cove, and Supernatural
5/20/06- Added Andre the Butcher and Dr. Who. Updated Lovers Who Stay with You
3/19/06 - Added BeetleJuice, The Gay Male Sleuth in Print and Film and Blood Lust: Erotic Vampire Tales.
2/5/06 - updated reviews for The Death of P'Town and The World on Blood
1/18/06 - Added Smart as the Devil, Thirst, Dhampir: Child of the Blood
12/31/05 - Added Eyes.
12/30/05 - Added Final Cut, Gay By Dawn, Scarlet Thirst, Requiem for a Vampire (2006).
12/25/05 - Added The Devil Inside, October Moon, and The Slasher
12/15/05 - Added Horror House, Bleeding Hearts, The Red Headed Wipe Out, Virago, updated Knights of the Darkness
11/24/05 - Added Haute tension, The Sacrifice, The Blood of Kings and Troll: A Love Story
11/18/05 - Added The Dyke and the Dybbuk, updated Basic Instinct
11/17/05 - updated numerous entries to flush out the descriptions.
11/3/05 - Added Kitty and the Midnight Hour, updated Ghost Kisses : Gothic Gay Romance Stories
10/22/05 - Added Knights of Darkness Chronicles - Book 1 and Book 2
10/21/05 - Updated Miscellaneous Queer Monsters area
10/16/05 -Added Hotel Transylvania, Bend Sinister, Soapsuds, Talented Mr. Ripley. updated Cursed, Hellbent, Ghost Kisses: Gothic Gay Romance Stories, Make a Wish, At Twilight Come the Flesheaters
9/11/05 -Added Wonderland, The Kiss, Bite Club, and Cursed
9/5/05 - Site is now Firefox compatible!
9/4/05 - Updated the queer dystopia area.
9/2/05 - Added new stories: Moonlit, A Night Out of Time, and The Hungry Mint-Green Jelly
8/27/05 - Added Be Very Afraid: More Tale of Terror, Decorated to Death (Simon Kirby-Jones Mysteries), A Slice of Terror updated Waiting, Buffy - the Vampire Slayer, Our Vampires, Ourselves
8/11/05 - 2004 awards were given
7/22/05 - Working on making the site meet accessibility requirements, updated Our Vampires, Ourselves
6/26/05 - Added Waiting and Deep in the Woods entries
5/28/05 - Added Pheromones: the Smell of Sex and Make A Wish reviews
5/15/05 - Discovered that the blood-flag graphic that was created by QueerHorror.com has now become the default image to show something is GLBT horror. Weird how things work! (note; to those historian, this was the first appearance of said blood flag -- the second was in the magazine Homoeroticon).
4/16/05 - Added Charmed, Coldheart Canyon, Gardenias Where There Are None, and Killer in Drag, updated Pandora and Queer Dark Thrillers area.
3/26/05 - Added Bloodsucking Fiends review and Hellbent entry.
3/25/05 - Added Jeepers Creepers II, Ghost Kisses, The Year's Best Science Fiction and The 4th Man reviews and updated queer dark thrillers area.
3/18/05 - Added I, Vampire, Shelter Island and Firelands reviews
1/21/05 - Added Chelsea Horror Hotel and Faked To Death reviews.
1/08/05 - Added Lovers Who Stay With You, Gay Exorcist and updated Dog Collar Boys.
11/20/04 - Added Zombies, Haunted House on Sex Hill, Manimal and Midnight Thirsts reviews
11/13/04 - Added The Stepford Wives, Kids in the Hall, and Saturday Night Live.
11/05/04 - Added The Haunted Hillbilly, Killer Condom (the graphic novel) and Deals with the Devil reviews.
10/24/04 - Added Scary Godmother and South Park, the series.
10/23/04 - Added reviews for Hard, Shadows, Cherry Falls and updated Night Bites - Vampire Stories for Women and Too Beautiful.
9/3/04 - Added Scream 2, Tap Tap and Single White Female reviews.
8/26/04 - Added reviews for Friday the 13th, The Series, To the Grave and Dead Until Dark.
8/1/04 - Added more morphs to Gay Vampire Pictures and Kiss Me Kill Me review.
7/31/04 - Added The House of the Vampire by Viereck.
7/24/04 - Added NightShadows and Still Life reviews.
7/22/04 - 2003 Queer Horror award winners announced
6/28/04 - added ability to add extra images to movies and books.
6/19/04 - added stories Angel : Bi Boss and Night Clerk
6/13/04 - added Man Eater and Apartment Zero reviews. New GLBT horror films showing in SF.
5/28/04 - added additional chapters to Christopher's Dilemma,and Suicide by Sodomy, Vampires and AIDS.
5/24/04 - added Hot Blood XI and Vampire Thrall reviews and article Hungry for your Love.
5/4/04 - added Dark Queer Thrillers and Miscellaneous Queer Monsters sections.
4/25/04 - added Terror Tales from the City, Bloodsong and Attack of the Amazing Colossal Latino, plus Stephen King article updated.
4/19/04 - added Escape from Fire Island
3/7/04 - added new gay vampire story Christopher's Dilemma
3/6/04 - added reviews for Angel, Shadows of the Night and Rainbow Arc of Fire.
2/13/04 - fixed big bug in site preventing user ratings for items from showing up.
1/29/04 - added reviews for Satan's Victor and A Nightmare on Castro Street.
1/24/04 - added references to The Businessman, and Contra/Diction and review for Swamp Foetus.
12/07/03 - added reviews for The Picture of Dorian Gray, The Handmaid's Tale, Man Hungry and The Hole.
11/30/03 - added Wired Hard 3 and House of the Vampire review
10/31/03 - QueerHorror.com was written up in Colorado and Texas GLBT papers and Freshmen magazine.
10/23/03 - added In the Blood (#2) and Gerald's Game reviews.
10/10/03 - added Prague Rising review and gay werewolf story Prey
10/3/03 - added Satan's Stud and Whispers reviews
9/28/03 - added Dead Guys review
9/27/03 - New navigation added to horror section
9/21/03 - Added Bloodkiss: To Choose
9/9/03 - Added reviews of Were-grrl, Dead Boys Club 2 and Fairy Tales.
8/31/03 - Added Goblin Market by Christina Rossetti.
8/27/03 - Most functionality back. A new BBS has been added to the site.
8/7/03 - Moving to a new server... much functionality disabled for now.
7/23/03 - The 2002 Queer Horror award winners announced.
7/4/03 - Added Masters of Midnight, and Queer Fear II.
5/10/03 - Added an interview with William J. Lambert III.
4/21/03 - Added the pulp Vampire's Kiss .
3/21/03 - Added Demon's Coronation, Dog Collar Boys, Too Beautiful and Valley of the Damned.
3/17/03 - Updated Lemora, a Child's Tale of the Supernatural, VamBIers, Dragula and added Posted to Death, Imps of the Perverse: Gay Monsters in Film, Someone is Killing the Gay Boys of Verona.
3/13/03 - Added new stories: Lupus Erectus, Adam's Place, The Sounds I Hear, and An American Were-Hypnotist in London .
2/9/03 - Added Cruising and Final Stab reviews.
12/26/02 - Added The Newlydeads
12/16/02 - Added Ancient Images and updated Sleepaway Camp.
11/09/02 - Added Merrick and The Vampire's Heart reviews.
8/16/02 - Added reviews for Blood of the Goddess, Rumpenstein's Monster and updated Devil is a Bottom.
7/6/02 - Added reviews for The Making of Dragula, Queen of His Castle, Witchcraft and the Gay Counterculture and Dracula in the Provinces
7/5/02 - The 2001 Queer Horror Awards are announced.
7/3/02 - Reviews filled out for The Shining (the book) and Hover.
6/19/02 - The site is back up and the server is at a new, spiffy location!
4/26/02 - Added Black Feathers: Erotic Dream, The Darker Passions: Carmilla and Dawn Song.
3/16/02 - Two new stories added: Back to the Black Lagoon, and A Tale of Pain. Also added the article Conquering the Demon Within.
3/4/02 - Added new horror stories: Gay Doom, Mirrors and A Nasty Tail of Vehicles.
2/21/02 - Added 2 new stories: Stalk and Blood To Wine. Also added the reviews for Bound in Blood and Chamber of Homos.
1/24/02 - Added Clive Barker's Books of Blood, Volume 3, Three on a Broomstick and A Clash of Fangs.
1/16/02 - Added Dark Master and Devil's Phallus reviews.
1/12/02 - Added the gay werewolf story Territory, as well as references to The Gay Ghouls and Demon's Stalk.
12/30/01 - Added a new story: Fishing Pier Vampires and a review of Dark Brotherhood
12/28/01 - Added The Gay Haunt, Drawing Blood, Night of the Living Bi-dolls and The 13th, It Was a Friday reviews.
11/30/01 - Added review for the first gay horror 'toon - The House of Morecock. Also added Circuit Rider's Lesson.
10/26/01 - Added reviews for Children Shouldn't Play with Dead Things, Soulkeeper, The Living One and Trysts. Interview added with film director David DeCoteau.
10/6/01 - Admin area completely rewritten. Also added a review for Cruising and The Last Vampire.
9/24/01 - Added the article Vampires in Gay Male Porn, also added reviews for The Devil and Danny Webster, Sacrament, Clive Barker's Books of Blood, Volume 1, The Uninvited and Are you Loathsome Tonight
9/5/01 - Added The Brotherhood II - Young Warlocks reference, also updated Queer Werewolves with some pictures and My Friend Larry.
8/25/01 - Added an interview with Kevin Glover, also added reviews for Dracula's Daughter and Nude for Satan
8/17/01 - Added many lesbian vampire porns: Caress of the Vampire, Caress of the Vampire 2 : Teenage Ghoul Girl a Go-go and Caress of the Vampire 3, Mistress of Seduction, Hot Vampire Nights and Vampire Ecstasy
8/9/01 - Added reviews for Velvet Vampire, Fear No Evil, The Seed of Lost Souls and Devil at China Cove.
7/13/01 - Reviewed The Wolves of Kromer, Bending the Landscape : Horror, The Dark Kingdoms trilogy, TITanic 2000 and Mortal Fear. Also added a new story, The Man In Milwaukee
6/2/01 - Added a new article: We're Here, We're Queer, We're Kindred! and entries for: Brother Trouble II, One Hot Summer, The Devil and Danny Webster, The Devil is a Bottom, In the Blood
5/20/01 - Added 2 new vampire stories: From the Grave and To the Grave
4/18/01 - Database extended to include movie authors and added Swords of the Rainbow.
4/8/01 - Updated Heaven's a Drag and Blood Relations.
3/12/01 - Adding more data to each entry.
2/4/01 - Added Vampire Lesbians of Sodom, It, Bride of Chucky, Zero Patience and a new article: Vampires and AIDS.
1/29/01 - Added many new entries. A Herd of Tiny Elephants, Disturb Not the Dream, As One Dead, When Will You Rage, Everybody Loves You and The Splendour Falls.
1/18/01 - A lot more computer data stored in the site (nothing exciting, just proving I'm still working on it)
1/6/01 - Modified the data structures of the site and added Path of Corruption
11/27/00 - Added Strange City and The Dark. Also updated Traditional Family Vampires.
11/2/00 - Added Prison of the Dead, The Brotherhood, Voodoo Academy and The Pleasuring of Rory Malone.
10/30/00 - Queer Ghosts has now been added to the site.
10/15/00 - A few new things are added, including Exquisite Corpse, Life of a Man-Eater and another gay vampire picture.
10/5/00 - Added the world's first Lesbian Vampire Recipe to the site.
10/4/00 - Added 3 new entries: The House Next Door, Brother Trouble and Out There.
9/12/00 - Formal reviews and user ratings can now be seen on some items. I'll be adding more as time goes on.
9/4/00 - Added 5 new entries: Queer Fear, Wormwood, Dr. Jekyll and Sister Hyde, At Twilight Comes the Flesheaters and The Piercing.
9/3/00 - Gave up on the awful index server I had and wrote a new search engine.
9/2/00 - Redid most of the site to be more 'search engine friendly'.
8/20/00 - I finally got a new scanner. Many books and movies finally have images, plus new vampire artwork.
8/12/00 - Vampire Boys added to the site.
7/24/00 - FAQ's updated and some new poetry has been added.
7/23/00 - 2 new stories added: On Line and Beginning of the End. Additional ways to sort books and movies have been added.
6/30/00 - Added a list of queer horror zines and a brief overview of the history of queer vampires.
6/18/00 - Two new stories added to the queer horror stories area. 4 new reviews added.
6/17/00 - Site optimized for 4.0 and 5.0 browsers. Sorry 3.0 and below users!
6/10/00 - 2 new stories added
5/18/00 - User rating has been added to the site. Go to any book or movie and follow the link on the bottom to rate it.
5/13/00 - Added 'Traditional Family Vampires' to the database, and a new vampire story ' Bloody Choices'. I've also added 2 new interviews with Pam Keesey and Rick Reed.
4/29/00 - 4 new entries added to the database.
4/23/00 - Many more queer vampire pictures available, including morphs, movie pictures and artwork.
3/30/00 - I've finally gotten a chance to work on Queer Werewolves, including the front page, FAQ, and stories.
2/22/00 - The books and movies pages for the horror and vampire sections were redone to make them more usable.
2/8/00 - I've finally put together the articles sections of the web site. Only a few articles for now, but it's a start.
2/6/00 - Forums have been added again. Leave messages for others. 5 articles have been added.
1/21/00 - I've added the addALink app back to the site, and a nifty counter.
1/16/00 - New stories and a couple other gay vampire references have been added.
1/9/00 - I am way backlogged. 2 new stories have been added... the first gay and lesbian vampire stories ever written.
1/3/00 - Timeline of site officially started!
12/7/99 - Site is up.
11/20/99 - Server is set up and domain name has been applied. Transferring over Queer Vampire web site.
7/28/99 - I have bought QueerHorror.com as a domain name. As soon as I get my server set up, I can transfer Queer Vampyres from my University account.
3/2/99 - Queer Vampires was written up in the Advocate as being one of the top 10 GLBT fantasy sites on the Internet.
2/8/99 - Queer Werewolves area started
1997 - "Sad was I to discover how few pages there were out there dealing with queer vampires, so here I am to help fill that void." So, I made a web site. for them hosted at the U of MN.